10 affection soaked tree houses in India -dreamy beauties
10 affection soaked tree houses in India -dreamy beauties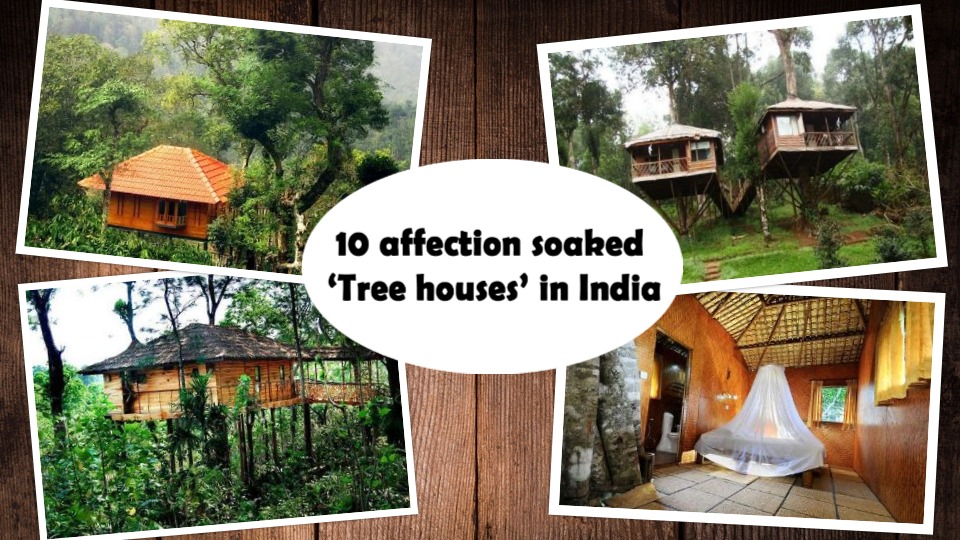 I so wish to be there one day… the time has changed pals, in present; the days are ruled by several mantras of quickness. Here is the one, which I believe on the most – Less of thinking and more of doing. It's nowhere written that every act of yours should be a revolution, at times you need to get yourself into things which makes you feel glad and satisfied.
Frankly speaking, we all know this thing for the fact that life is a collection of instances and situations [if not completely but yes it's sure to define one's existence up to a certain level] – I hope you will agree with me on this. Some believe in sharing their feelings and thoughts and some are comfortable in keeping it to themselves. A person like me finds it easier on living through speaking her heart out every time when she finds the right person next to her – who could be anybody from my family or the small list of friends. Staying in a tree-house was my longing dream ever since I saw someone actually doing the same in some movie and recently I gifted myself a stay in a tree-house resort.
Believe me, the dream destination seems even prettier in real because that's when you see everything with the eyes dressed in satisfaction and contentment. If you are waiting on for something which owns a space in your heart like forever then do not let it stay in sorrow. Step out from the home of comfort and fulfill your desires [life is full of choice-making].
Tree-house in brief
Some call it by the name of Treehouse, some address it as the tree Fort and for some, it's a tree shed – it's an artistry absorbed building constructed around, next to or among the branches or trunk of one or more mature and deep-rooted trees while above the ground level. The tree-house is not just an amusement consumed place of stay; it's a perfect hide-out especially for one who loves to wander in the Mother Nature [the silence breaking sweet voice of the birds, the voice created by the tiny creatures, the speedy winds touching the tall trees etc].
If these are the elements, which drives more happiness to your life then a stay in a tree-house is a must. The enthralling tree-houses can also be used for work-space [especially if you are into something which demands of continuous new ideas]; recreation, habitation and observation.
Here are the names of some incredible tree House resorts situated in the various parts of India – [followed by an informative]:
From the luxurious one to the ethnicity-driven – all types of Tree-house accommodations are easily found in India if you are at the right place and moment. Below listed are the names of several destinations, which are situated in natural settings –
1- Nature Zone Jungle Resort – Tree houses in India
This place of greenery and refreshment is situated at the high zone of Munnar amidst the greenery dressed mountains. It's a spot of awesomeness set out right in the arms of Mother Nature; a peaceful place to live at till the time you don't like going back to the world soaked in artificial noise. The nature zone jungle resort is situated at a mere distance of 15 Kilometers from the Matupetti Dam and the nearest airport is Cochin International Airport.
The enchanting resort is made up of 10 African Safari Tents, 05 well-furnished and classic tree-houses, a striking Multi-cuisine Restaurant, Plantation tour inside the resort, Doctor on call, Campfire, Child play area, Organic Vegetables and fruits farm etc. Here are the names of some activities one can choose on to involve into – Rock Climbing| Jummaring| Nature Walks| Rappling| Birding| trekking| Tent Camping| Mountain Biking and Jeep safari.
Suggested Tours – Tree House Tour
2- Vythiri Resort [Wayanad] – Tree houses in India
The moment you take a step in the grassy and leafy lands, a unique sort of sound is created and then the sound of running water, the speedy winds playing with the tall-heighted trees etc. Not just the stay but reaching out to these kinds of destinations in itself is a lifetime adventure. The appealing Vythiri Resort is located at the entrance of the Wayanad district of the happening state of Kerala [nicknamed as God's own country].
This resort is adorned with five tree houses in total settled in the deepest shade of creativity [it stands in the middle of a tropical rainforest. Witness the low-hanging trees shadowing the area it reaches out; the river flowing just right across your sight etc. The Vythiri Resort lives along the slope of a forest-clad hill; it's adorned with brick painted cottages, spacious accommodations, Private pools etc.
Suggested Tour – Kerala Backwater Tour
3- The Machan [Lonavla] – Tree houses in India
This enticing Tree-house resort is situated at Jambulne; it's one of the 25 biological hotspots of the world. If you wish to run far from the attention-driven surroundings then this is the perfect hideout for you. The Machan is not just any place of accommodation; it's truly a magical beauty encircled by the best of nature and positivity-soaked creations.
This resort is equipped with various types of Machans – the Woods| the Canopy Machan| the Jungle Machan| the Forest Machan| the Heritage Machan| the Sunset Machan and the Starlight Machan. One can explore a part of forest to where the walking trails are been outlined just for the guests; live by the experiences of Spa, Yoga and climatic charm etc. Apart from the stay, the Machan also entertains the proposal of being used as a corporate even site for defined dates.
Suggested Tour – Best Kerala Tour Packages
4- Suro Treehouse Resort [Shimla] – Tree houses in India
Firstly let me tell you that it's one of the best honeymoon resorts situated in the core of Kaithalighat. In the wintery hill station of Shimla resides this place of comfortable stay. Settled amidst the oak forest and deodar pine makes it a place of numerous views; you can opt a stay at the Individual Pinewood Chalet or the Duplex Chalet.
Here are some room features to list down – Free Wi-Fi, Mini Fridge, Telephone with intercom, Tea-coffee maker, Kettle-cum water heater etc. You will definitely love your stay at this resort; and on top of everything you can also participate full-heartedly in the activities like – Nature walks, Wildlife Spotting, Hiking, Camping, Bonfires, Village visit etc [Note- the above-listed activities are Chargeable].
Suggested Tours – Tree House Tour
5- Tree House Resort [Jaipur] – Tree houses in India
The notable tree house resort is situated at a minimal distance of nearly 30 minutes from the pink city of Jaipur in the state of Rajasthan. You would need to follow a path that leads to this nature-friendly destination situated in the north zone of India. These Treehouse Nests are settled atop the "Keekar" trees, you can see some of the branches running through the rooms etc.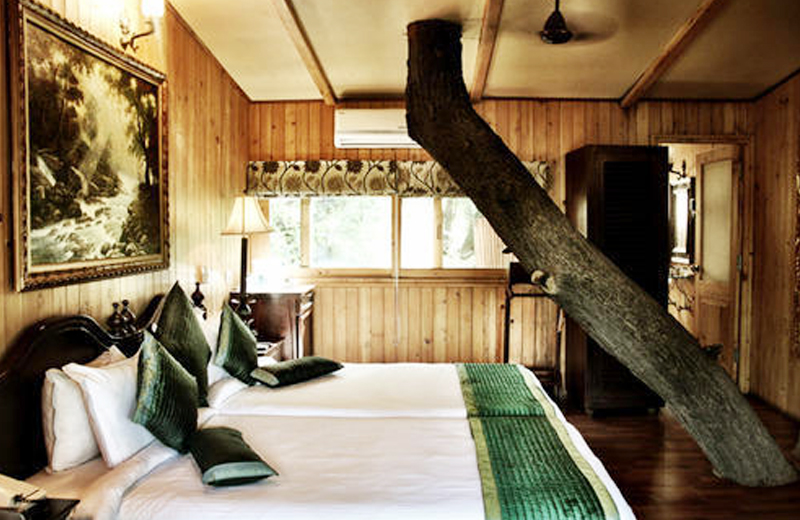 There three- types of accommodation – Deluxe Nests| Luxury Nests and Private Suites. All the nests are equipped with features like Hot and cold showers, Satellite TV, Tea-coffee Maker, mini bar, Wi-Fi connection etc. You can also participate in a quirkiness absorbed activity referred as THE AVIARY SPA.
6- Tranquil Resort [Wayanad] – Tree houses in India
This is where you can breathe the refreshment instilled air filled with the soothing essence of Coffee; the Tranquil Resort of Wayanad is situated within the zone of Kuppamudi Coffee Plantation in the praiseworthy state of Kerala. The Tranquil resort is settled amidst the 400 acres of greenery; you will definitely fall in love with this place in a visit.
Three are numerous kinds of accommodations – Serenetree Tree Villa| Tranquilitree Tree House| Luxury Suite| Deluxe rooms| Garden Rooms etc. What you get here is really convincing and calling too – some to name: Swimming pool area, Common dining room, Kerala Ayurvedic Massage, LCD Television, Fridge, Laundry service, Tea-coffee maker etc. The activities one can get mixed up with are tranquil walks, Bird watching, Ayurvedic massage etc. While exploring the finest of South, do make sure to place your stay at this resort for days of your choice with your friends and family.
7- Manali Treehouse Cottages [Manali] – Tree houses in India
Here is what it's equipped with – A tree Cottage| 03 comfort-driven cottages styled in different forms and a Swiss-tent. The room features vary according to the place of stay you choose – here are some to name: Wi-Fi, Laundry service on request, attached Bathroom, Parking etc.
The nearby spots of attraction include – Hidimba Devi Temple, Rohtang Pass, Tibetan Monastery, Vashisht Hot springs etc. Here are names of some fun-packed activities one can go enjoying with – River-rafting, Paragliding, Skiing, Rock Climbing, River Crossing etc. Whenever you plan on exploring the alluring hill station of Manali; do consider staying at this resort of happening surroundings and comfort. Let me tell you that if you are a mountain person then this place blessed with a mountainous frame will definitely fill your heart with immense joy and greatness.
8- Tree House Hideaway [Bandhavgarh] – Tree houses in India
The tree house Hideaway is spread in an expansion of 21 acres area of land, bordering the Bandhavgarh National Park. A stay at a tree-house and exploration of wildlife [perfect combination for one to live by]. The Tree House Hideaway is adorned with accommodations equipped with the features like – 24 hours hot and cool water, inviting living area, mini bar, writing table, chair, loungers in the balconies etc.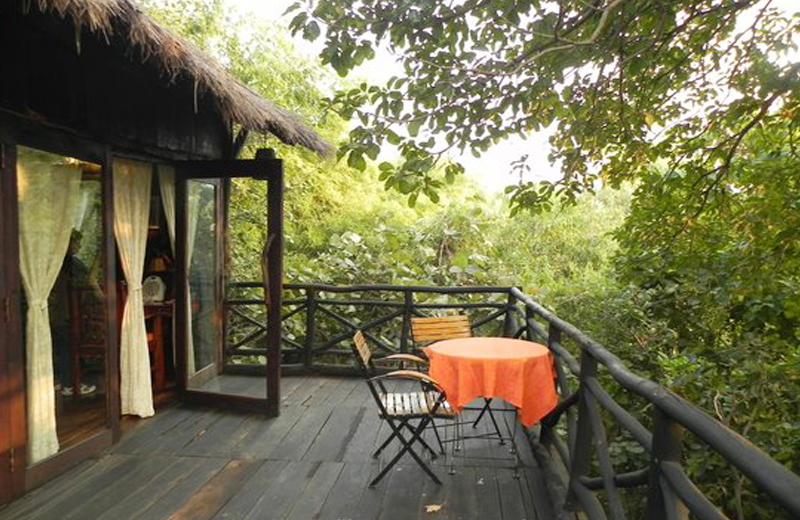 The names of the accommodations are kept after the trees it's built upon – it goes like Mahua, Tendu, Peepal, Banyan and Palash. These houses are a result of the efforts put in by the local staff [these are made up of regularized wood using the basic knowledge of the craft and traditional expertise]. This place definitely resides in great harmony with Mother Nature – pure and poise. The most interesting is the Dining Hall [built gracefully around an old Mahua tree – designed in two levels].
Suggested Tour – Best Kerala Tour Packages
9- Marmalade springs Resort [Wayanad] –Tree houses in India
Meet this place of beauty situated on the 2nd highest peak of Wayanad; the Marmalade springs resort is spread charmingly in an expansion of 30 acres. It's a boutique resort located in the arms of Southern India; you will definitely enjoy your stay at this place of comfort and calmness. What makes this place more exciting is its location; one of the oldest tribal colonies is situated right next to the Marmalade springs.
This is the reason, which allows the guests to experience their unique customs; you even enjoy a night of tribal food and dance. Interesting isn't it?? The Marmalade Springs resort is well-equipped with 04 wooden cottages, the Pillar House, the child-friendly tree house, Rock House, cottages and superior rooms. Here are the names of some amenities you get to live here with – Open Restaurants, Games room, Dorai Cave, Natural Stream, mini Conference room, Swimming pool, Children play zone etc. Some activities to run into are Plantation Trek to Cave, Bird watching, Fishing, Campfire dinner, Yoga, Barbeque etc.
10- Safari Land resort [Masinagudi] – Tree houses in India
This enticing place of stay is situated on the foothills of the Nilgiri Mountain range. It's charmingly spread over 5 acres of land; it owns 5 varied types of tree house accommodations [the Tamarind Villa, the Mountain View villa – AC and Non AC, the white-house villa and the Dormitory for groups. Here are the names of some activities one can involve with – Trek, Resort games, Swimming pool, Bird watching etc.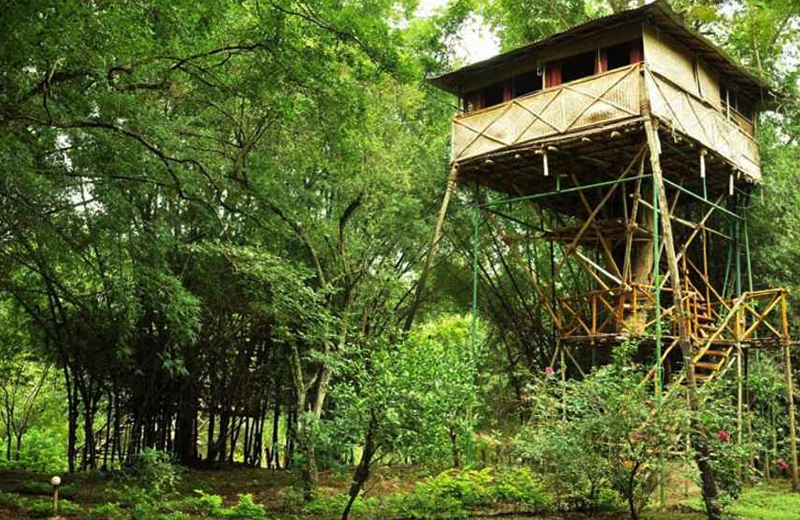 The unspoilt destinations are superb and effective especially for those who wish to take a break from the noise of the materialistic world. For this vacation select any of the above-listed destinations as your spot of exploration such as Manali, Wayanad etc and prefer staying at any of these tree houses with your friends and family. Set yourself out there and see what the world is more to what you know. Accept the challenge of exploration and live your life to the fullest.
Suggested Tour – Tree House Tour , Wildlife Tour Packages ,