10 best things to do and see in Gulmarg
10 best things to do and see in Gulmarg
This is what happens when a set of surprises awaits your presence; Plans like this come into existence with several wishes rolling down in the background. Not everything surrounding your life chases the assistance of your mind, at times you need to be polite and equally comforting to your heart. Allow your heart to express what it feels likes, what does it expects from life – share your time with it. Your heart plays a major role in finalizing your trip and the destination.
New faces all around| uneven mountain frames| the tall-heighted trees dressed in layers of snow| snow drifted over the path| people covered in warm clothes| the wavy winds| the natural meadows etc to a limit defines the frame one can become a part of, on their visit to the northern hilly town known as Gulmarg.
Gulmarg in brief [the meadow of flowers]
Originally this place of charm was addressed as Gauri Marg, meaning the Path of Devi Gauri, which was later on transformed to Gulmarg by Yusuf Shah of the Chak Dynasty. Gulmarg is not just any place of great appearance; it's a well-known town, a superbly famous hill station and an amazing and most-preferred Skiing destination; it resides gratefully in the Baramula district of the enthralling northern state of Jammu and Kashmir. The appealing town of Gulmarg is located in the Pir Panjal range in the western Himalayas.
The enchanting natural meadows of Gulmarg, which are dressed in the snow of winters, allow the growth of wild-flowers namely Daisies. The Meadows are interspersed by bounded parks and small lakes and encircled by forests of green pine and fir. The winter sports in Gulmarg [the popular hilly town] are carried out on the slopes of Apharwat Peak at an altitude of 4,267 meters. Numerous points on Apharwat Peak and Khilanmarg are a provider of an enchanting view of the Nanga Parbat and Harmukh mountains. The picture-perfect settings of Gulmarg has been the shooting location for several Bollywood films like Jab Tak Hai Jaan, Bobby, Highway, Haider, Yeh Jawaani Hai Deewani etc.
Here is a list suggesting the 10 best things to do and see in Gulmarg –
1- Enjoy a ride on Gulmarg Gondola –
The Gulmarg Gondola in Gulmarg is one of the World's highest operating Cable cars. The notable two-stage Gondola lift ferries around 600 people per hour to and from the super-amazing Kongdoori Mountain, a shoulder of the close by Apharwat Peak. A Gondola can accommodate six people at a time; it takes nearly 9 minutes to reach at the first stage and 12 minutes for the second stage. Upon your arrival to Gulmarg; do gift a treat to yourself by booking this ride [you will definitely have a lot of fun doing this].
Suggested Tours – Gulmarg Powder Skiing Tour
 2- Go skiing in the snowy trails of Gulmarg –
If you are an expert and infused with a thorough understanding of how to go skiing then Gulmarg is super-great for you but if you are here with the desire of having somewhat idea on Skiing or learn this adventurous sport then Gulmarg skiing zone is best for the beginners as well. There are three baby slopes accompanied by the expert Ski instructors [you can hire a ski instructor for the number of days you plan of devoting your time to skiing]. You can also try your hands in Snowboarding and sledging in snow.
Suggested Tours – Gulmarg Skiing Excursion Tour
3- You can decide on trying your hands in Golfing –
Golfing is an ideal summer sport; if you are planning on paying a visit to this hilly town in summers, then you can try your hands in Golfing. The northern town of Gulmarg is home to a Golf Course; it's situated at an elevation of 2,650 meters, the highest green golf course in the World. This prominence soaked historic Gulmarg Golf Club was started in the year of 1911 by the British, who used the place as a Holiday resort.
4- You can spend a day at the Alpather Lake –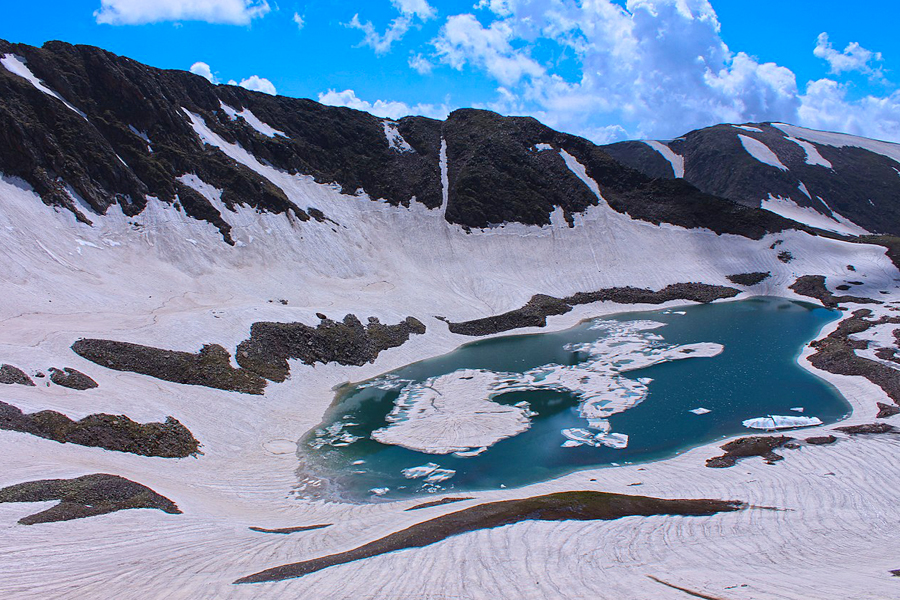 A watery beauty adorned with the backdrop of mountain peaks; this place of silence and serenity is located at the feet of the twin Apharwat Peaks, the enchanting lake is situated at a distance of nearly 13 Kilometers from Gulmarg. The Alpather Lake remains frozen in the winter months [perfect spot for nature lovers].
Suggested Tour- Frozen River (Chadar Trek) Tour
5- Explore the flora and fauna of Gulmarg Biosphere Reserve –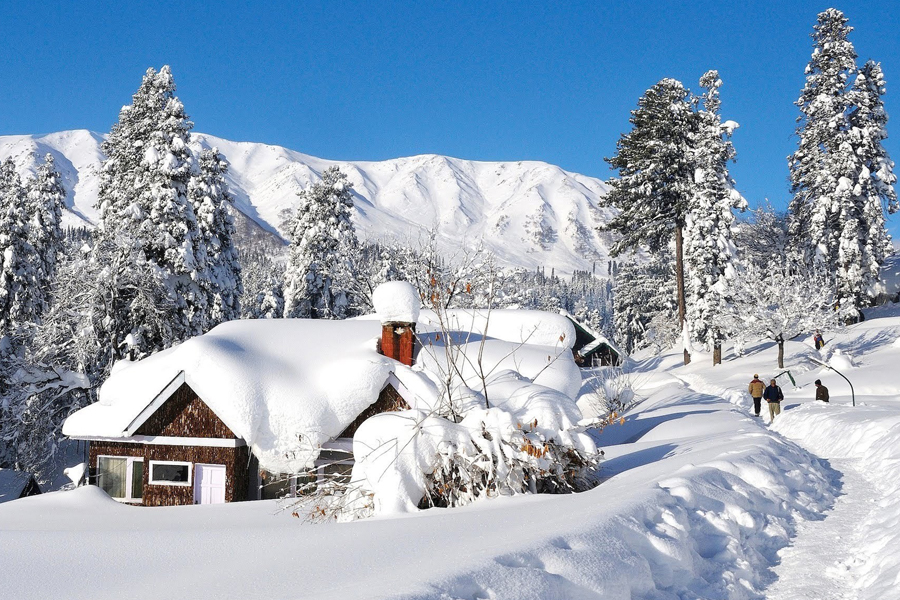 This significant reserve area is situated at a mere distance of 48 Kilometers from Srinagar [located to its southwest]. It's a caring home to several endangered species and also a blessed place of stay for the varied featured avifauna.  Some species you can come across are – Himalayan Musk Deer, Black Bear, Red Fox etc. Whether you are travelling alone or if you are strolling in the jungle trails with your younger ones; this place of wonder will definitely shower numerous sheets of excitement on all of its admirers.
Suggested Tours – Hills Stations Adventure India Tour
6- Live the spiritual bliss at Maharani Temple –
Widely addressed as the Shiv Temple of Gulmarg; it was constructed by a Hindu ruler Maharaja Hari Sisodia for his wife Maharani Mohini Bai Sisodia who governed till 1915. This noteworthy house of worship is devoted to Lord Shiva and Goddess Parvati; it's situated on a slight hill-top with refreshing greenery. The Maharani Temple is visible from all the corners of this magnificent Hill station. Do visit this place of spirituality with your near and dear ones.
7- A day in prayers [St. Mary's Church] –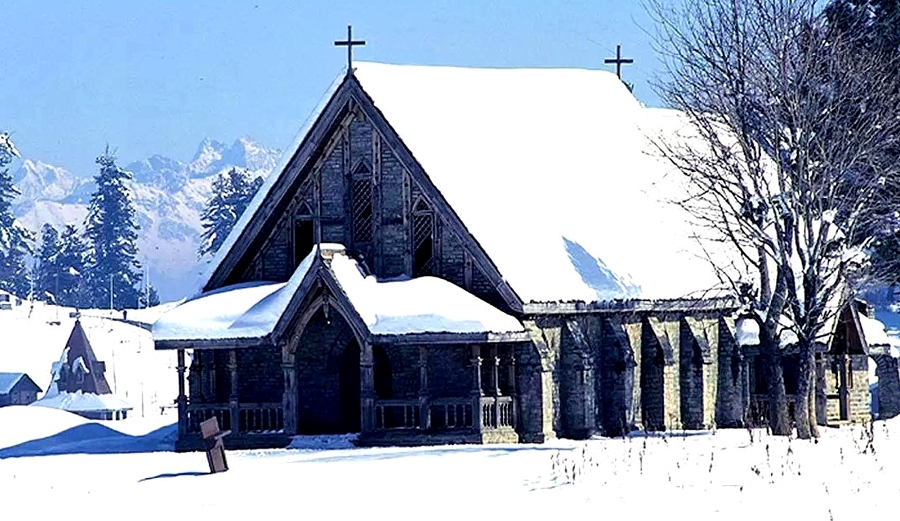 One can always gift itself some moments of peace; the Roman Catholic St. Mary's Church is situated in the Valley of Shepherds in Gulmarg [the refreshing town of Jammu and Kashmir]. It's a place of worship, made of grey brick with a green roof and well-adorned wooden interior walls. This church was constructed in 1902, during the period of British rule [built in British style], described as a "Victorian architectural wonder". The church is only accessible by Trekking; you will definitely enjoy the route of this attraction of Gulmarg.
8- Witness the beauty of a nearby Valley [Khilanmarg] –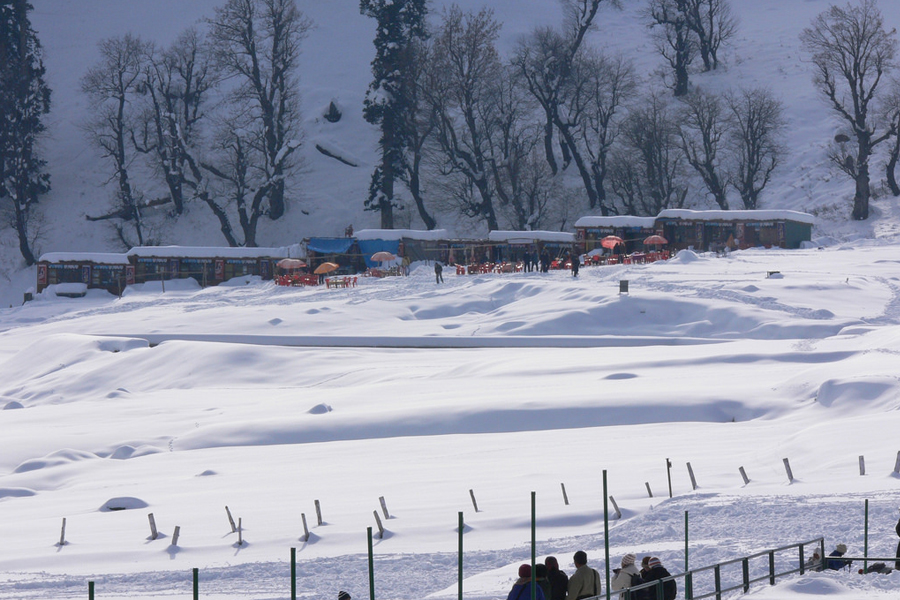 It's a teeny-tiny valley instilled with immense beauty; Khilanmarg is situated at a minimal distance of 6 Kilometers from Gulmarg. The impressive display spans from the Himalayas from Nanga Parbat to the peaks of Nun and Kun to the Southeast.
Suggested Tours – Hills Station Honeymoon Tours , Gulmarg with Taj Mahal ,
9- Devote a day tasting the local food and cuisine of Gulmarg – 
When it comes to having a complete meal, Gulmarg is up with a multi-course meal addressed as Wazwan. The preparation of this Kashmiri cuisine is more of an art; it's treated as a point of pride in Kashmiri culture and identity. Almost all the dishes are meat-based – using chicken or lamb with a few vegetarian dishes. This cuisine is a major part of most of the celebratory occasions.
10- You can also enjoy a pony ride –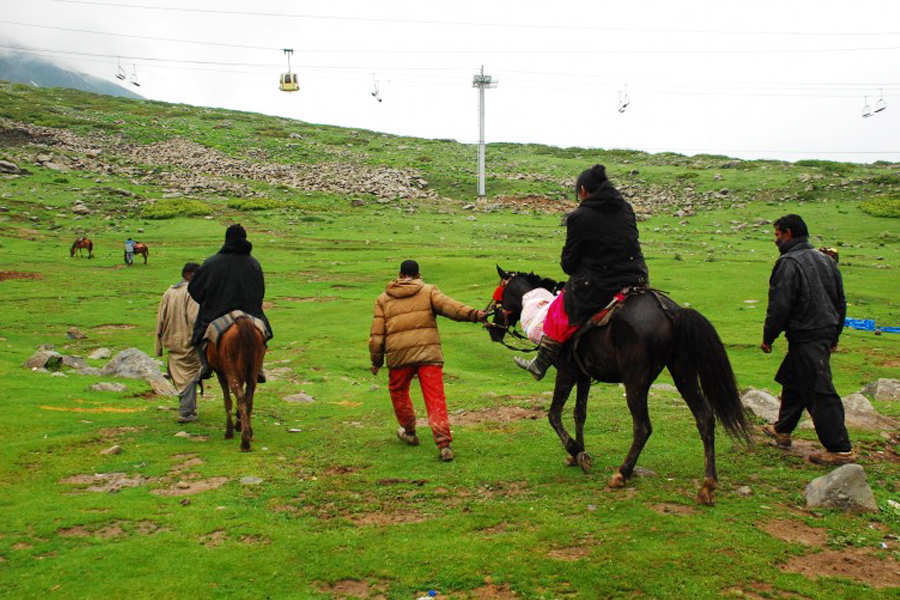 If you wish to explore the amazing highlands of the valley; then you can go for a pony ride and witness the enchanting beauty soaked frames surrounding your presence.
Other Suggested Tours – Adventures India Tour Tour , Golden Triangle Tours Packages ,
The northern state of Jammu and Kashmir is dotted with several touristic spots; one of the prime spots is Gulmarg, which is also a well-known honeymoon destination in India. Irrespective to multiple numbers of visit; some destinations always stay fresh and active in your mind and heart [do explore the enchanting hilly town of Gulmarg with your friends and family].