Things to do in Manali – where beauty resides in abundance
Things to do in Manali – where beauty resides in abundance
"You don't need magic to disappear; all you need is a destination." 
The Hill-station of Manali can easily have one's heart set on – never let the liveliness and excitement in you come to an end or say do not allow it to take a pause under the materialistic pressure. Always make sure to surround yourself with a fun-loving atmosphere. Be friends with people who share the same level of positivity that resides in you or say you own.
Conquer the snow-capped mountains of Manali [perfectly framed with unique elements exhibiting the finest of Mother Nature]
Make your way to an elegant Hill-station that houses the freshness of immortality. Absorb the enchanting beauty of flourishing orchards and take lessons from the Rocky Mountains.
Explore the unspoilt destinations –a hill-station like Manali can set your heart out at someplace to where in real it actually belongs. The Manali attractions will make you go crazy or say automatically will make your mouth open up in surprises.
The scenery of Manali can make your heart bounce really fast as it takes a while to believe your eyes. Come along with your friends and family and live for a couple of days in the finest of natural beauty
Manali in Brief – A bit of geography
Manali is a high-altitude Himalayan resort town [next to perfection] situated in the Northern region of country India in the state of Himachal Pradesh. This outstanding place is always packed expect for monsoons with limitless footfalls of the lovely couples and prettier Backpackers. It sets quite nicely on the Beas River [one can come across this striking hill station while making their way to Solang Valley [Skiing] or say encounter the heights and depths of Parvati Valley. Stop by for a day or two – discover the extraordinary creations of Manali. Walk around in the jungle trails of Manali Wildlife Sanctuary; one can also pay a visit to the various pilgrimage sites [temples devoted to Hindu God; Buddhist and Tibetan Monasteries] etc.
Climate condition of Manali – up with the glory
Except for monsoons – any time of the year will work perfectly fine in order to live the best of a remarkable hill-station. It completely depends on your desire whether you feel like exploring the magical beauty of this hill station when the atmosphere is infused with pleasant weather or in case you wish to witness the impressive charm of this hill station when it is adorned with the snowy backdrop.
Climate chart –
1- Summers: Beginning from the month of March to the month of June follows the summer season and the temperature varies from 10 degree Celsius to 35 degree Celsius;
2- Monsoon – starting from the month of July to the end of September follows the monsoon season and the temperature varies from 10 degree Celsius to 17 degree Celsius;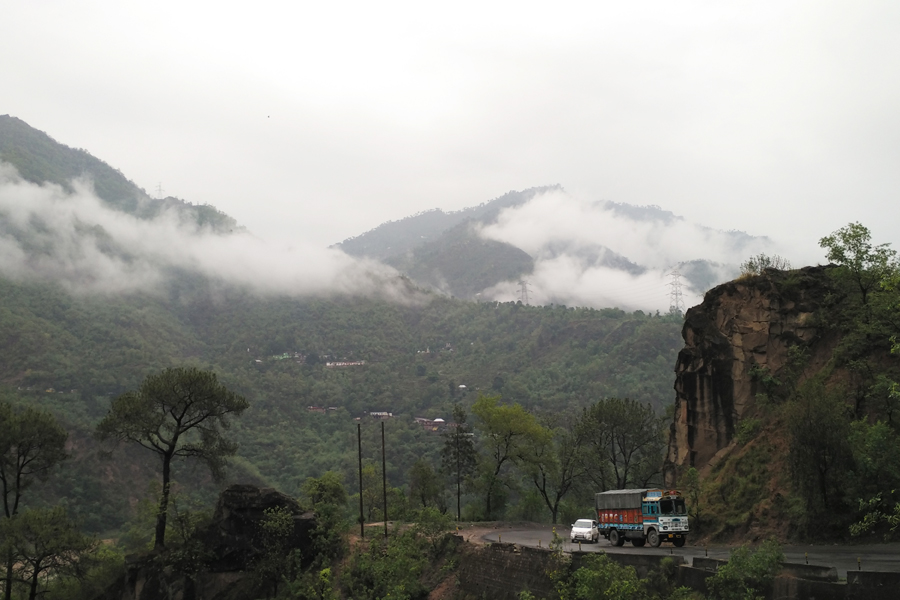 3- Winter – beginning from the month of October to the end of mid of March follows the winter vacation and the temperature varies from 1 degree Celsius to 5 degree Celsius.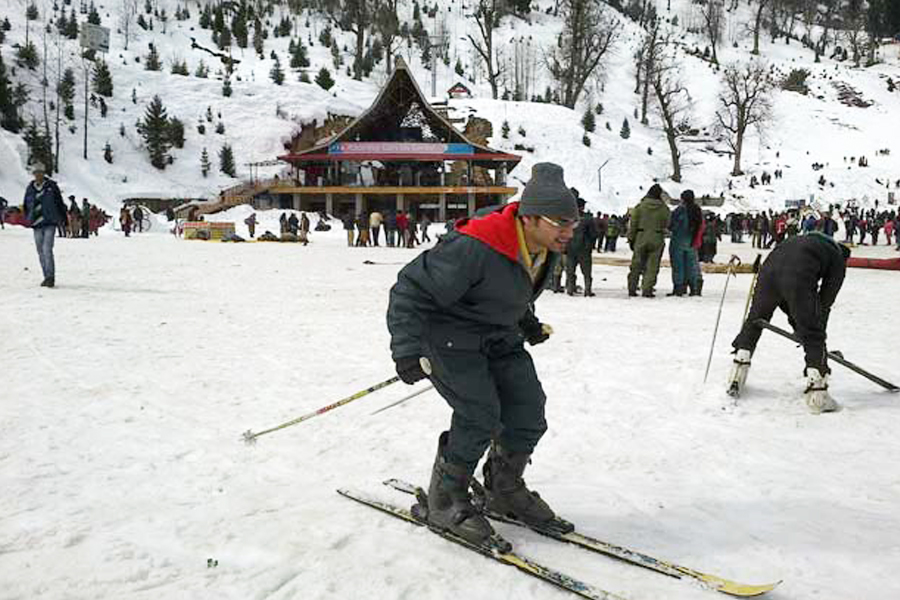 [Manali Trip Plan] When can one make the most of the undeniable grace of Manali –?
Manali serves its lover and visitors in more than one way –it's considered as one of the most preferred destinations when it comes to celebrating the initial days of your marriage life [Honeymooning days]; the hill station of Manali is one of the lovable places when the point of desire is to witness snowfall.
It's also one of the most attention-seeking destinations in India in order to spend the summer vacations [summer retreat].
To become a part of this enticing frame or say to fit in perfectly in the enthralling landscape of Manali – The months of spring and summers are considered as the Best-suited period however if one wishes to witness the snow-capped mountains and feel like playing in the thickest layer of white-flurry snow then the winters are the best of your choices [beginning from the month of December to the end of February is when you can live by your dreams.
Activities that take place in Manali –
The hill-station of Manali is thoroughly a sweetheart – loaded in perfect amount by the remarkable elements of Mother Nature and YES dotted with numerous destinations that serve its visitors with multiple adventurous activities.
There are two most prominent purposes that drive more footfalls in the enchanting and unspoilt land of Manali –
One – It witnesses numerous days of celebration carried by the Newly-wed couples;
And secondly it's the major backpacking center for enthusiastic travellers.
Not only its vicinity but the encircling spots of this hill-station are also always up to greet the presence of travellers;
One can make their way or say find their path that leads to the Solang Valley, which assists or say gives an opportunity to the courageous travellers to try their hands in an adventurous sport named as Skiing;
The trekking trails of Pin Parvati Valley also find their way from the vicinity of Manali;
One can also participate eagerly in the fun-driven activities that define to what's it like to take risk namely Paragliding, River-Rafting and Mountaineering at the splendid location of Pir Panjal mountains [houses the striking Rohtang Pass – 4000 meters high].
Placing yourself out at someplace which is completely new to you in itself is a great adventure – take an escape from the comfort zone and challenge your abilities to reveal its greatest strength.
Suggested Tour – Best Honeymoon Tour, Short Manali Tour 
Walk about – Places to visit that are situated close to the hill station of Manali
1- Solang Valley [Places to visit in Manali]
Stay for a day or two at the roadside Shelter situated close to the Solang Valley – if you wish to wake up to happiness and joy then do make sure to do something out of the box but yes within one's reach. This valley has got its identity from a nearby village. It's an adorable side valley at the top of the Kullu Valley in the state of Himachal Pradesh; 14 Kilometers Northwest to the hill station of Manali enroute Rohtang pass.
Solang Valley is best-known for serving its visitors with exciting summer and winter sports [Parachuting| Paragliding| Zorbing and Skating].
2- Rohtang Pass – [Places to visit in Manali]
Rohtang pass is a high mountain pass located on the eastern Pir Panjal Range of Himalayas – one can explore the charm of this place as it's situated at a distance of 51 Kilometers from the hill station of Manali. The Beas River rises close to the crest of Rohtang from a block of Mica-Schist.
This pass works as a conjunction point – it connects the Kullu Valley with the Spiti Valley and Lahaul of the state of Himachal Pradesh. To add more information to your knowledge let us tell you that the first Electric Bus service started on Manali- Rohtang pass [altitude 13000 feet]. Do make sure to discover the stunning beauty of waterfall that falls on the way to Rohtang.
3- Bhrigu Lake – [Places to visit in Manali]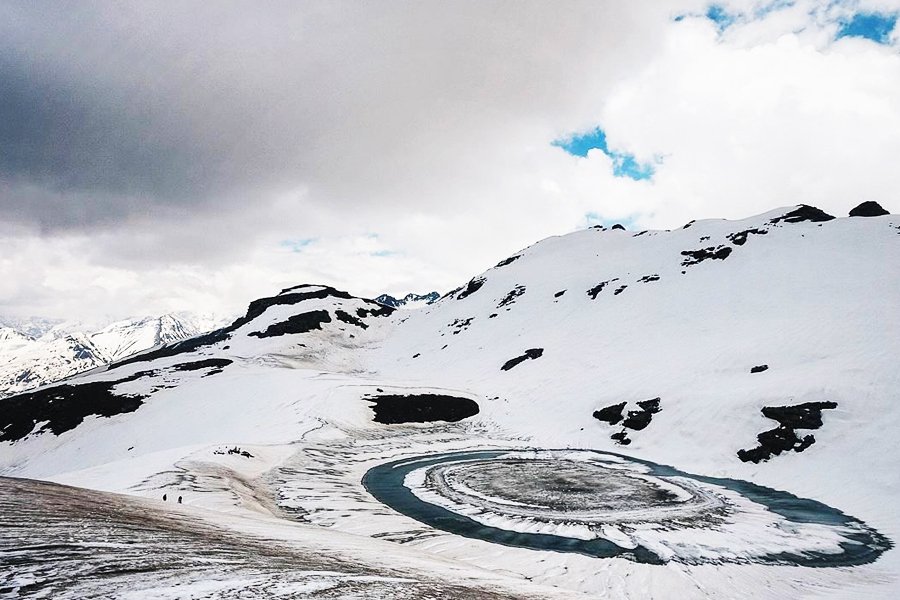 Make your way to a lake that is situated at an elevation of approximately 4,300 meters in the Kullu district of the state of Himachal Pradesh. This enticing lake site is located to the east of Rohtang pass.
One can easily find their way to Bhrigu Lake from the Village of Gulaba [only 6 Kilometers distance]. This lake is named after Maharishi Bhrigu.
One of the breathtaking views is offered by this lake in the months of winter season [it's completely covered in a thick sheet of snow – Frozen Lake].
Suggested Tours – Best Hill Station Tour
4- The great Himalayan National park – [Places to visit in Manali]
Dedicate some quality time to the vast and rich bio-diversity of Nation India. Pay a visit to the Great Himalayan National Park [a wide piece of land devoted in the conservation of Wildlife] – this safeguarding National Park is situated in the Kullu region of the state of Himachal Pradesh.
Year 1984 was when this park was announced into existence – spread in an area of 1,171 Kilometers square at an altitude varying from 1500 to 6000 meters.
The significant role played by the great Himalayan National Park is well-acknowledged by UNESCO – making it a World Heritage Site. Make your way and please your eyes with the delightful sight of diversified Flora and Fauna.
Suggested Tour – Indian Wildlife Tour
5- Pin Valley National Park [Places to visit in Manali]
Set the wheels in motion and turn your path in a direction that takes you to the quirky lands of Pin Valley National Park situated within the Spiti and Lahaul district in the enthralling state of Himachal Pradesh. This National Park was established on 9th of January in the year 1987.
One can spot some rare species of Flora and Fauna as it's a high altitude park that experiences extreme temperatures. Some to name are Alpine trees| groves of Himalayan Cedar| Himalayan Snowcock| Snow Partridge| Snow-finch etc.
Here is the list of places to visit in Manali – [Manali India Points of Interest]:
1- Hidimba Devi Temple [Places to visit in Manali]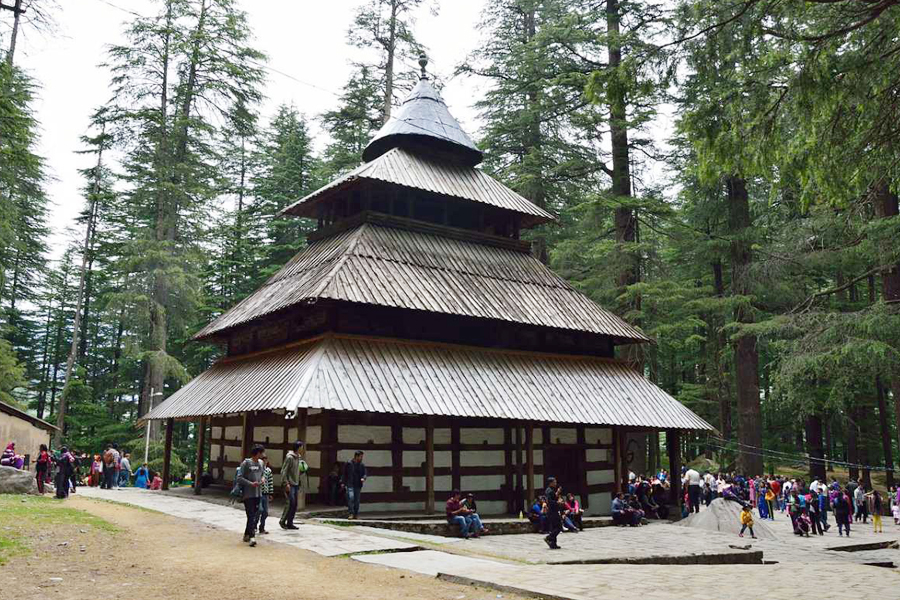 In the name of God – Make your way to a spiritual place that introduces you to some moments of absolute peace and happiness. Join your hands in prayer and pay a visit to the holy temple named as Hidimbi Devi Temple also addressed as Hadimba Temple situated in the hill station of Manali in Himachal Pradesh. Be full of excitement to explore an ancient cave temple, which is devoted to Hidimbi Devi [wife of Bhima].
This place of worship is encircled by Cedar Forest at the foot of the Himalayas. This grand structure was built in the year 1553.
Suggested Tour – Indian Temple Tours
2- Manu Temple [Places to visit in Manali] –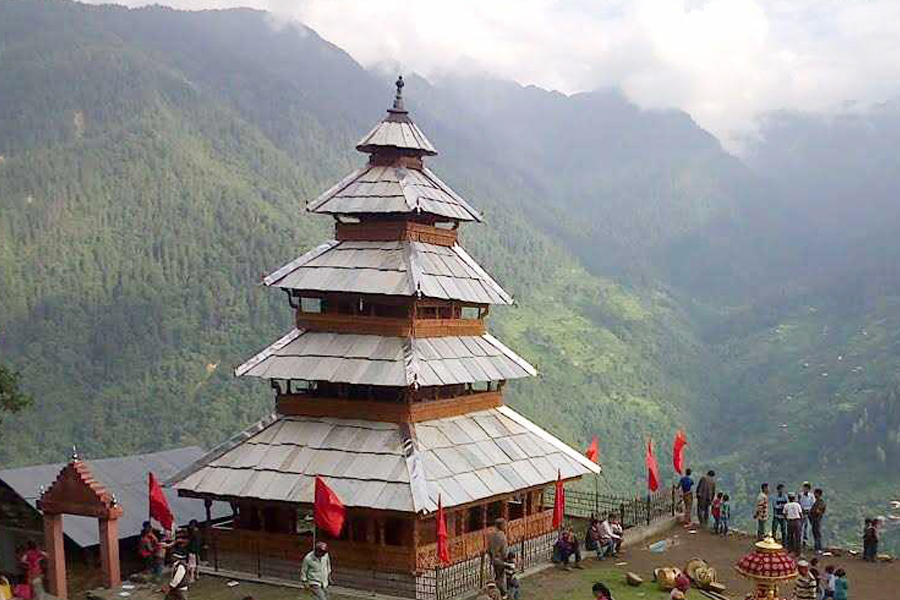 Count your steps and run into a direction that leads you to the Manu Temple, which is devoted to the Sage Manu [the writer of Manusmriti].
This place of worship is situated in the Old Manali [3 Kilometers away from the main market].
Pay a visit to this magical sacred land that seems prettier in the presence of Beas River. It highly believed that this is the place where sage Manu meditated for long after stepping in the vicinity of Planet Earth.
One very significant thought to be kept in mind before making your way to this holy land – Dress in such a way that your shoulders and body from up to the knees are be covered properly.
3- Manali Sanctuary [Places to visit in Manali] –
Hold your camera tight and run into the arms dedicated to Wilderness. Make your way to a wildlife sanctuary that preserves the creation of Nature. This safeguarding sanctuary is situated in the state of Himachal Pradesh – for approximately 2 Kilometers away from the enchanting hill station of Manali. One can walk their ways from Manali log Huts and Dhungri Temple that passes through dense Deodar, Horse Chestnut, Walnut, Kail and Maple forests. A huge herd of Ibex can be witness migrating in the glacier zone in the days of summer.
Some animals to name that can be easily spotted while walking the forest trails of this wildlife sanctuary are Musk Deer, Brown Bear, Leopard, Snow leopard and Monal.
4- Bijli Mahadev [Places to visit in Manali] –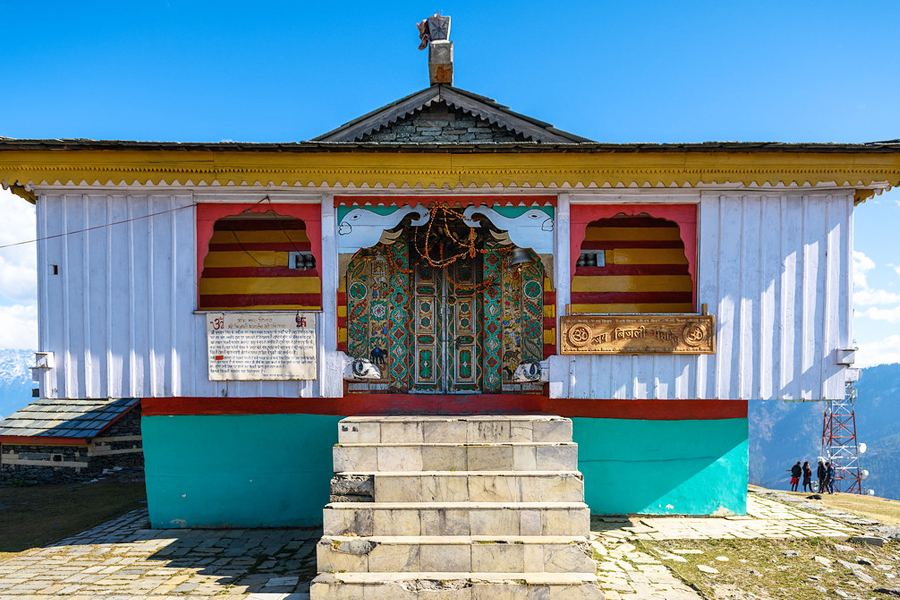 To gain inner peace – join your hands in the name of God and run into the province of spirituality. Bijli Mahadev is highly considered as one of the holiest temples situated in the vicinity of Himachal Pradesh. It's situated at an elevation of nearly 2,460 meters in the Kullu Valley right across the Beas River. One can mark their presence to this divinely place by encountering a brief trek of approximately 3 Kilometers.
One can witness a mind-blowing sight of Kullu and Parvati Valleys from the extreme heights of this temple.
[More Places to see in Manali and nearby places holding attraction]
Here are the names of few more attractions that one can visit if he or she is left with ample time or say if they wish to explore every corner of Manali –
1- Vashishtha Temple
2- Ghatotkach Tree Temple
3- Snow Man point
4- Himvalley Amusement and Cultural Park Manali
5- Shanag Bridge
6- Gayatri Temple
7- Anjani Mahadev Temple
Book your tickets well-in-advance to explore the outstanding places of attraction that lies in the vicinity of Manali and some lies in the encircling regions.
Other Suggested Tours – City Day Tour , Kerala Tours , Golden Triangle Tours, Rajasthan Tours