Top 10 Pilgrimage Places of India
Top 10 Pilgrimage Places of India
Since India is country where religion has it utmost importance, it is also extremely diverse in nature. The plenty of religions majorly the Hinduism, Islamic, Muslims, Sikhism and Christianity have a prominent hold on to the society. Other religions do exists yet these religions have the most number of followers and believers. The different structure of rules and protocols, these religions can be seen as the most colorful religions. Hence every single religion has plenty of its centers all across the country yet few of them are considered to be the most crucial amongst all. These Top 10 Pilgrimage Places of India are spread in the nation in different areas and no wonder they attract thousands of followers and believers every year that once cannot be counted.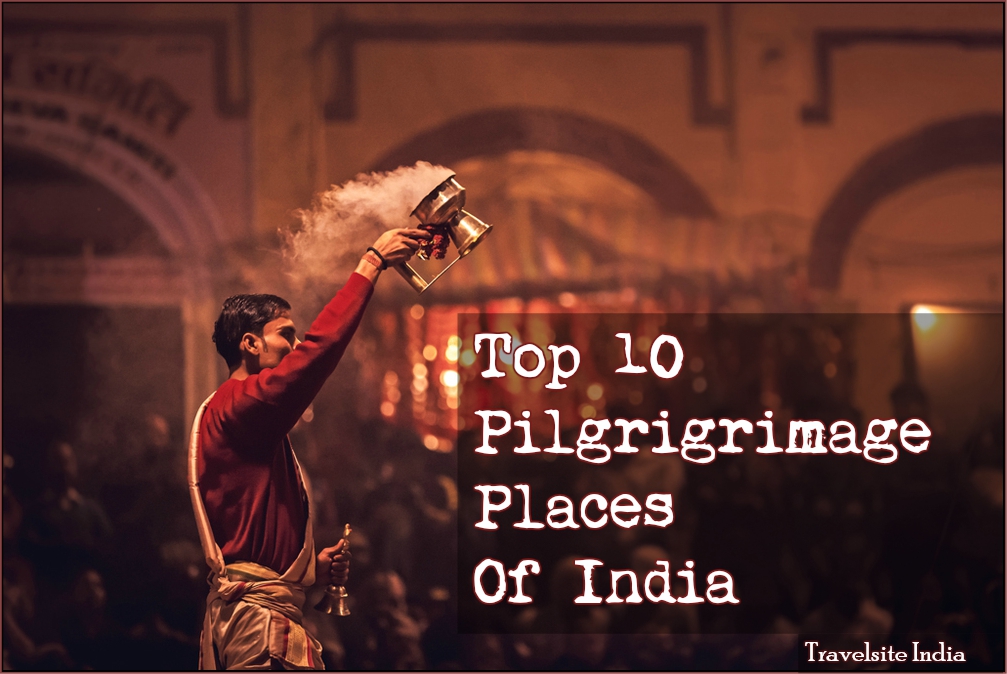 Since there are plenty of pilgrimage destinations in India, there are few pilgrimage centers and destinations that have utmost importance and significance, attract and fascinate devotees from all across the world. Hence they can also be called as the Tourists Pilgrimage Destinations. While you wish to go for a Pilgrimage Tour of India, I can understand your situation of being in total confusion for where to start from and what to visit. Right?
Since I've been here to guide you with plenty of thing, this time, let me help you with the Top 10 Pilgrimage Destinations of India with which you can definitely book your Pilgrimage Tour of India and explore the most colorful religions.
Top 10 Pilgrimage Places of India
Since the above mentioned religions have plenty of pilgrimage and religious centers in the country, few of them remain the most important ones who have the power of fascinating uncountable number of devotees and visitors from all over the world. And the most interesting fact about these pilgrimage centers is that they usually hosts few religious festivals that are extremely colorful and interesting that excites people to at least attend them once in a lifetime. Just not to be a part of something interesting but also to seek blessings at the same time.
So, catch the list of Top 10 Pilgrimage Destinations of India that I've jot down for your perfect Pilgrimage Tour of India:
Top 10 Pilgrimage Destinations of India
The city which is regarded to be the "Holiest City of India" or the "Holy Capital of India" is known to be the city which is oldest city of the world. Merely around 3000 years old, this city of Varanasi is located at the banks of Holy River Ganga which is considered to be the river which came out from the head of Lord Shiva. Hence the most important river in terms of religion and life giving as well.
The banks of river Ganga where the ghats are situated have uncountable number of devotees coming down to seek blessings of lord to let their sins be forgiven and they can live a happy and long life further. Since Varanasi is the religious centers of Hindus, the festival of Diwali which is the festival of light and joy is celebrated in a huge level. Do not forget to be a part of it.
Varanasi Pilgrimage Tour: North India Pilgrimage Tour, Buddhist Circuit with Nepal Tour, Buddhist Spiritual Tour, Religious Yoga Tour of India
Now, since Pushkar city as an amazing and interesting story behind its origin, all I can tell you in short is the fact that states that it is the King of all Pilgrimage Centers of India. Now you will be thinking of how is it possible. Right? So let me tell you! Once since Lord Brahma's lotus flower fell on Earth, its petals fell on three places and the third one was the Pushkar City. Because of something that happened (to know more about this, check Information About Pushkar City) Pushkar is the only destination of the world that houses the Only Temple of Lord Brahma. Since then it has given the utmost significance.
It is believed that one dip in the water of Pushkar Lake which is surrounded by the 400 + temples make you attain salvation and help you give away your sins. Pushkar hosts few festivals and out of them, the International Camel Fair is must attend festival.
Pushkar Pilgrimage Tour: Hindu Pilgrimage Tour, 10 Days Rajasthan Historical Tour
Meant to be the "Holy Pool of Nectar", Amritsar is the city which is loved by the people from all over the world because of plenty of things. The biggest aspect of this city because of which it is considered to be one of the most important religious and pilgrimage centers of India. Since Amritsar is the town known for Sikh community, the city houses their most crucial pilgrimage center which is known to be the Golden Temple. The huge and mesmerizing Golden Temple with plenty of other small Sikh temples, with gurubani being hear at every point of time and the happy hospitality of the Punjabis makes this place a must visit place in lifetime.
For anyone who is seeking peace, this is the perfect place for you. Since it's a Sikhism dominant destination, the biggest festival of Sikhism, Birthday of Guru Nanak Dev Ji that falls in November – December every year is celebrated on an extremely huge level. One should not miss to attend it.
Amritsar Pilgrimage Tour: Indian Sikh Tour, Sikh Pilgrimage Tour, Nau(9) Devi Darshan Tour, 7 Days Golden Triangle with Golden Temple
Home to the biggest sufi saint of the World, Mouin-ud-din Chisti, Dargah Sharif is the place that has retain its name amongst the believer from past many centuries. It has been believed that here, Mughal Emperor Akbar asked for his son, and because of his belief and prayers, he was soon blessed with a son. Since then, this place has been given the place of one of the most important pilgrimage centers of the country. Here, people from all over the world come to seek blessings from Dargah Sharif and from the Sufi Saint, Mouin-ud-din Chisti.
One can surely seek peace of soul and mind here. Rather most of your prayers will be heard as per the belief. The festival of yours, is the must attend here.
Ajmer Pilgrimage Tour: Golden Triangle with Dargahon ki Ziyarat, 10 Days Rajasthan Tour
The birth place of the most prominent and loved God of Hinduism, Lord Krishna, this is a place that can truly called as a paradise. A small town full of village people who are busy carrying out their regular work makes it the simplest town yet this simplest town of the country becomes the most lavish and beautiful town to the nation when it comes to the festivals that it hosts. Being the birth place of Lord Krishna, here, uncountable number of devotees comes down to seek salvation and blessings.
Since, the festival of Holi which was the most loved festival of Lord Krishna and the festival of Janamashtmi which is the festival that celebrates the birth of Lord Krishna every year, is celebrated in an utmost luxurious style, you will surely have a great time here. Do not forget to attend and be a part of this festivals apart from paying a visit to the Bankey Bihari Temple which is the most crucial temple here.
Mathura Pilgrimage Tour: Holy Land of Krishna Tour, North India Temple Tour, Indian Spiritual Culture Tour
Another location that is most prominent as a religious center and as well as the tourists destination, Shirdi is the place that is dedicated to saint Sai Baba who has been living his life for his followers throughout. It is also believed that he has been performing some miracles in his lifespan for the benefits of his followers and thus posts his death, the place where he lived is now known to be the Shirdi.
Since it is believed that he has lived his life for the welfare of his followers, it has also been believed that he has been most important doctor, in initial sense a Ved in the ancient time period. The festival of Navratri, Vijaydashmi is a must attend here.
Shirdi Pilgrimage Tour: Shirdi Tour with Shani Shingnapur
The place that is dedicated to Lord Venkateswara, who is known to be the incarnation of Lord Vishnu, is The Tirumala Venkateswara Temple that can be located nearby Tirupati. Here in the town, the whole of this town is dedicated to Lord Venkateswara. Since Lord Vishnu is considered to be the savior of the world, millions of devotees here come to seek shelter under the vibes of the Lord Vishnu, exactly Lord Venkateshwara to be blessed with the happiness and prosperity.
The most important festival of this place is the nine day Brahmotsavan Festival which is celebrated in the month of October.
Tirupati Pilgrimage Tour: Tirupati Balaji Darshan Tour, South India Temple Tour
The most crucial Indian Pilgrimage Center, Vaishno Devi is located at a height of 5,300 feet in Katra, Jammu. This is the most visited pilgrimage center after Tirupati, the temple for Lord Venkateswara. Dedicated to Goddess Shakti, who is one of the 51 Shakti Peethas, Vaishno Devi Shrine is considered to the home to the biggest power of Goddess. Since Goddess Shakti is known to be the mother of the most powerful Goddess, Goddess Durga, her shrine, Vaishno Devi is the location that should be visited at least once in a lifetime.
The nine day festival of Navratri that is held twice a year is celebrated in huge manner here.
Vaishno Devi Tour: Mata Vaishno Devi Darshan by Helicopter
Leh, the location of Ladakh which is initially the Adventure Capital of the Country has its religious side as well. Since land is a Buddhist Dominant Area, Leh in Ladakh is home to some of the most important and most beautiful Buddhist Monasteries of the world. The peaceful atmosphere here will let you relax your mind, body and soul and moreover let you connect you with your inner self.
The Hemis Gompa and the Matho Gompa are the most revered in the region. Yet the annual Matho Nagrang Festival which is celebrated in the beautiful and huge way is must a witness.
Leh Pilgrimage Tour: Spiritual Hindu Tour, Kailash Mansarovar Yatra, Amarnath Yatra by Road From Pahalgam, Amarnath Yatra by Helicopter
Rameshwaram, the place that is home to the temple of Ramanathaswamy Temple which is one of the 12 Jyotirlinga Shrines dedicated to Lord Shiva. Since it is located on the Pamban Island which is connected to main land India by a Bridge, no matter if you are religious person or not, a single trip here will act as some of the most wonderful memories and moments of your lives.
Mahashivratri and Navratri are the festivals that are majorly celebrated here. And thus your presence to these festivals will provide you so much you couldn't ask for.
Rameshwaram Pilgrimage Tour: 12 Jyotirlinga Darshan Tour, Southern Temple Tour
So, with this list of Top 10 Pilgrimage Places of India, till you book your India Tour as your perfect Pilgrimage Tour to India, I wish for your happiness and blessings. Take Care!